Breakfast/Supper
Hearty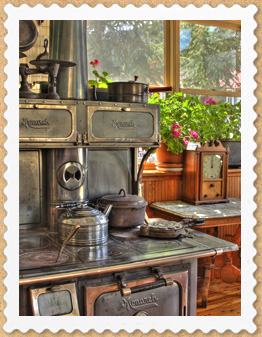 Breakfast: You'll be served a distinctive and hearty breakfast with the old cook stove nearby. Homemade breads and fresh ingredients help to create a meal that will satisfy your hunger and delight your senses, nourishing and preparing you for the day ahead.
Sharon's commitment to quality down-home cooking began more than four decades ago when she was a young mother preparing meals for her family. "Our table symbolized togetherness and loving support. The meals were pure and simple, and the cookie jar was never empty."
Your morning will begin with freshly brewed gourmet coffee or tea and a fruit parfait. Add a tasty entrée and good conversation, and you'll be ready for a day in the Colorado Rockies.
A sampling of our breakfast includes Strawberries in Cream, One-Eyed Jack Eggs, Skanga Sausage, and Cranberry Scones; or Blueberry Fruit Parfait, Santa Rosa Eggs, Peppy Potatoes, and Colorado Bacon.
Breakfast is served at 8:30 a.m. in the dining room. "Breakfast to-go" is available by request for those departing early or offered later for those needing a longer rest from their busy lives.
Supper Is Included: Because Sharon and Chuck hope you'll spend as much time as possible in St. Elmo, supper is included in your room tariff. Fresh bread, salad, and dessert round out your deliciously simple yet hearty evening meal.
Supper is served in the dining room at 7  p.m. If you choose to dine at any of the fine restaurants in Buena Vista or Salida (35 to 50 minutes from St. Elmo), please let Sharon know your plans. She prepares for your arrival by shopping for fresh ingredients the day before you arrive.
Picnic Lunch Option: Sharon will provide a fireside or picnic lunch upon request. Be sure to ask her about it when you make your reservation. An additional charge of $7.50 for each lunch will be included in your room tariff.
Meals for guests with special dietary needs, including vegetarians, diabetics, and guests with food allergies or other nutritional requirements are available. Ask Sharon for details.


Holiday Morning French Toast
(serves 6)
1/2 C brown sugar
1/4 C butter
1 1/2 tsp ground cinnamon
3 tart apples, peeled, cored, sliced
1/2 C dried cranberries
1/2 loaf French bread, cut in 1″ slices
3 large eggs
3/4 C milk
1/2 tsp vanilla
In an 8″ x 11″ baking dish, combine brown sugar, butter, and 1/2 tsp cinnamon. Distribute evenly. Arrange layers of apples, cranberries, and bread slices on top. Mix eggs, milk, vanilla, and 1 tsp cinnamon until well blended. Pour mixture over bread, soaking completely. Cover and refrigerate 4 to 24 hours. Bake, covered with foil, in pre-heated oven (375 degrees) for 40 minutes. Uncover and bake 5 more minutes. Remove from oven and let stand 5 minutes. Cut and serve piping hot with sauce spooned over top. Enjoy.

Photo credit: Monarch Stove by The Creative Approach, Colorado Springs, CO, www.ObedientCamera.com
FAVORITE RECIPES for CHRISTMAS and THE NEW YEAR (Many of the recipes are named after local mines surrounding St. Elmo, Romley, and Hancock. During the heyday of gold and silver mining in Upper Chalk Creek, there were as many as 80 mining claims and 50 operating mines. The BIG HOPES and BEST CHANCE claims pretty much say it all.
CHRISTMAS MORNING LATKES (Potato Pancakes)
3 C finely grated potatoes
2 eggs, beaten
1 1/2 T flour or 2 T matzo meal
1 tsp. salt and 1/4 tsp black pepper
1/3 (4 T) onion, finely chopped
3 T oil
Scrub but do not peel potatoes. Rinse and drain  after shredding. Squeeze out excess water. Add remaining ingredients, except oil. Heat oil in skillet over medium heat. Drop 1/4 cup of mixture for each pancake into skillet when hot, and flatten slightly. Cook to crispy golden brown. Flip carefully and cook to done. Serve with APPLESAUCE and SOUR CREAM.
GOLD DUST MINE CARROT & CHEESE SPREAD
16 ounces softened cream cheese
1 pound grated cheddar cheese
1 can black olives, thinly sliced
3 large carrots, peeled and grated
1 T fresh parsley, chopped
2 sliced green onions
1 T lemon juice
Combine all ingredients and blend well. Refrigerate several hours or overnight to enhance the blended flavors. Serve with crackers or French bread slices.
MOTHER MURPHY'S ARTISAN LOAVES
3 C warm water
1 1/2 T sea salt
1 1/2 T yeast
2 C high-gluten flour
2 C whole-wheat flour
3 cups all-purpose flour
Soak yeast and salt in water to dissolve. In electric mixer, add flours to yeast mixture, one cup at a time, hand kneeding in last cup of flour until dough is not sticky. Knead five minutes. Rise to double in warm spot after placing dough in bowl and covering with a damp cloth (about two hours). Knead. Cut into four pieces. Knead each into a round loaf. Cut three slashes on top of each. Place rounds on baking stone and rise one hour. Preheat oven to 450 degrees.  Place small ramekin of water in oven. When oven is hot, bake loaves for 30 minutes. Cover loaves with foil if tops are browning too quickly. Cool slightly before cutting.
PRIDE OF NORWAY GREEN BEAN CASSEROLE
3 packages frozen French-style green beans
1 five-ounce can water chestnuts
1 pound sliced mushrooms
1 medium onion, sliced
1/2 C butter (one cube)
1/4 C flour
1 1/2 C milk
3/4 C sharp cheddar cheese, grated
1/8 tsp Tobasco
2 tsp soy sauce
1/2 tsp black pepper
3/4 C sliced almonds
Cook beans to barely tender. Drain and slice water chestnuts. Saute onion and mushrooms in butter. Add flour and stir until smooth. Gradually add milk, stirring to blend. Transfer to double boiler. Add grated cheese, Tobasco, soy, and pepper. Stir until cheese melts. Add water chestnuts. Combine sauce with drained beans. Place in buttered casserole dish. Sprinkle with almonds. Bake 350 degrees for 45 minutes.
GOLD FIELD PARMESSAN POTATOES
6 large potatoes
1/4 C flour
1/4 C grated Parmessan cheese
1/2 tsp salt and pepper to taste
1/3 C butter or olive oil
Peel potatoes and cut into quarters. Combine flour, cheese, and seasonings in a bag. Toss potatoes in flour mixture to coat thoroughly. Potatoes may need to be mositened with a light spray of water. Melt butter in 13 x 9 inch baking dish. Place potatoes in one layer in pan. Bake 375 degrees for one hour or until tender. Turn twice during baking.