Amenities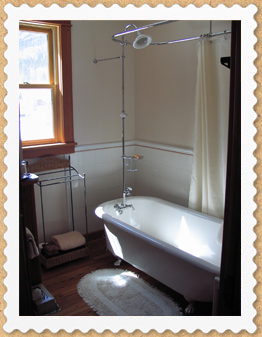 One guest commented that it took him days to absorb every fine detail of the Ghost Town Guest House. "It's an experience in itself," he said.
Amenities include queen-size beds with twins available for families/friends. Antique claw-foot tubs have thoroughly modern showers. The Gold Queen has a stand-alone shower and a claw-foot tub.
Guests are welcome to enjoy a large deck in the trees or the comfortable sitting room where they can read, log on to WiFi, watch a movie, or enjoy a snack. Guests awake to the smell of freshly brewed coffee. The snack bar is stocked with home-baked cookies and beverages.
Each guest room has an individual heat control, a gas log stove, a hair dryer, and toiletries.